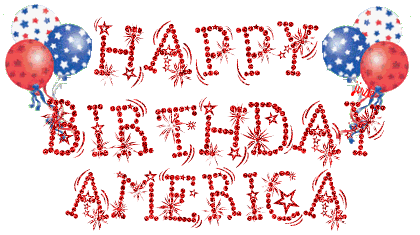 I thought I'd share the rest of my patriotic decor today. As I said in an earlier post, this all stays up until after 9/11, so really, if I wanted to, I could just continue to decorate, couldn't I?!
I was just able to finish this bunting before my sewing machine went haywire again.
Here's a close-up of the fabric I used.
One end of the porch swing.
The other end. I really want to paint the swing. But I don't know what color. A chippy white would just blend in with the house, wouldn't it? Any suggestions?
BIG SAM, which I made several years ago. He's as tall as I am!
Old Glory Cottage front porch, all decked out. I made the Sam & Libby up there too. And I see that the birds have been using Lady Liberty's hair again for their nests!
An old star quilt.
Some treat cups that I made last year.
The dining room table, with a vintage red, white and blue tablecloth.
I love all of these books, especially Long May She Wave. If you're crazy for Old Glory like I am, then it's a must-have!
A Mary Engelbreit garden flag. There's actually more red, white and blue that I never got around to taking a picture of, but you get the idea! Wishing everyone a safe and happy 4th of July, as we celebrate our country's birthday today!